This week has been like most weeks I have had in Uganda-filled with many ups and downs. I returned to Gulu to a house without power and my room ransacked by our (ex) cleaning lady. Mentally preparing myself for the week ahead on Sunday afternoon, my roommates and I got the worst possible news. The type of news that just makes your stomach drop. Pam, a friend who recently moved to Lira with the Peace Corp, was sleeping when 3 burglars broke into her house and stabbed her and her roommate multiple times before stealing all of their electronics. They were both air transported to South Africa where they underwent multiple life-saving surgeries. Pam was extubated yesterday and although she has a long way to go, she is stable for now. I have mentioned this before but I have not once felt unsafe in this country or that my life was at risk. Sure I have been uncomfortable but that's a part of traveling and experiencing a new place and new culture. You hear of something like this happening every now and then but it doesn't really hit home until it's someone that you are close to and in contact with. Am I scared now? No. Am I being overly cautious and aware of my surroundings at all times? Absolutely. All I can do now is pray for her to have a speedy recovery so that she can get back to the US where she'll be surrounded by her supportive family and friends.
On Monday I headed to the hospital to catch up with the nurses and go over everything that they have been up to since I have been gone. Somehow seeing them always puts me at ease. They were able to track down 7 more of our patients who were in need of follow up, which I was really happy about. It may not seem like much but these are the kids that had changed schools and had no phone numbers. The nurses went to practically every school in the district looking for these children.
On Monday night Carolina and I performed our weekly workouts in the front yard, using textbooks as weights, before heading over to Brandon's for dinner. Luckily for us Brandon is currently finding his "inner chef" and wants to experiment by cooking us dinner whenever he has time. I can honestly say I have absolutely no problem with this. In addition, as easy as it is to just curl up at the end of the day, it is so nice to share a meal with others and talk about your day.
On Tuesday we dealt with some rather unhappy patients who came to the hospital to see Twalib. We had tried to contact them to let them know that he would no longer be around and that we would need to reschedule their appointments but most of them did not provide phone numbers. The roughly 15 patients we had scheduled for Tuesday were then piled onto the 20 patients that were already scheduled for Wednesday. On Tuesday night all of us headed to Comboni's, the local Italian pizza place, to celebrate Carolina's 26th Birthday! Carolina is probably one of the sweetest people I have met while living here and she is the best roommate I could ask for. Her sense of adventure and love for life always brightens my day and everyone else's around her.
As you probably already guessed, Wednesday was an extremely busy day. We saw patients from 8:15-4:30 straight, trying to account for the backlog that accumulated while Twalib and I were away. One of these patients was Opio, which as always, made me the happiest girl in the world. Every time I see him he looks better and better with an even bigger smile on his face. This time he walked right in the room and practically leaped onto the echo bed without any assistance. Before it was a process to even get him on the bed due to all of his abdominal swelling. As usual his biggest problem right now is that he is bored but he is fully preparing to start 4th grade in January by reading all of his siblings school materials.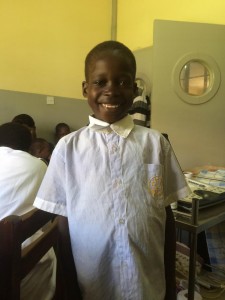 This morning I met with the nurses to go over everything for next week since I will be away working in Lira. They are more than capable of handling everything in my absence but I wanted to make sure that they are prepared to help Twalib as much as they can since he has roughly 25 patients scheduled each clinic day next week. We have all been working together long enough that what we have going just works and I feel horrible leaving them. At the same time working in the clinic is not the main reason I am here and the Lira project launch next week will keep me plenty busy.
Tonight I will be heading to Kampala with my roommates. From there we will head to Jinja for the weekend before I head to Lira with Twalib on Sunday afternoon. With everything that happened with Pam, I think we are all on edge and just want to get away for the weekend. In addition, tomorrow is Ugandan Independence Day so everyone has the day off. The National celebration is being held in Gulu this year, which means there are already 1000's of soldiers lining the street in preparation for the President's arrival tomorrow morning. In other words, it's time to get the heck out of dodge.