This past week has been amazing for so many reasons and in true holiday fashion, reminded me how thankful I am to be living and working in such an incredible place. On Monday and Tuesday Twalib saw patients and I picked up where I left off with my echo training and also acted as his scribe. Twalib and I ended up going to dinner on Monday night because we realized that we have very little time together before I head home. Per usual our topics varied, ranging from me going to med school to if turkey tastes better than chicken. Twalib has a lot on his plate right now since he is taking a MBA course and is also on Faculty at Gulu, which means he has to prepare and administer end of semester exams. Unfortunately this means that he will only be seeing patients 3 days in December.
On Tuesday I was probably the happiest girl on the planet when Opio walked in the door. He is doing wonderfully and Twalib couldn't be more pleased with his progress. He looks like a completely different person and his energy is seriously contagious. He has been living with his Uncle in town since his surgery because life in the village can be rather tough. Our hope is that he will continue to live in Gulu so that we can send him to a school in town, where he will be much better off. I have met with one head teacher already and have another meeting with one this afternoon. I am more than ready for him to be back with kids his own age and can't wait for him to actually have the opportunity to play-its been almost 3 years!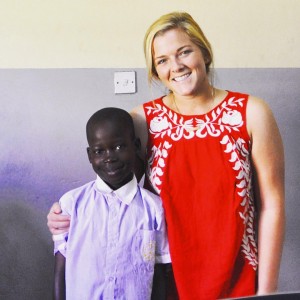 On Wednesday I spent the day with the nurses organizing patient files from when I was away and working on the logistics of the rheumatic heart disease support group that we will be launching come January. At night I went to dinner with my friend Katie, who is sadly headed home today. She is one of the sweetest and most genuine people I know and she has been instrumental in our search for the RHD children that we lost to follow up. She is a teacher at a local school and not exactly sure how she managed it but she is practically fluent in Acholi. The good news is that she will be coming back in the middle of January and has agreed to help me run the next support group!
On Thursday I attended the first annual Gulu 5K Turkey Trot. There were over 90 people who ran the race and it was such a good time. We thought people starred at us before, but a bunch of mzungus doing an organized run, now that is a sight. Every time I go on a run here a boda- boda stops me and goes "you stop that, Ill take you." The idea of physical exercise is simply foreign to most Acholi people. The person that won however, was a Ugandan marathon runner who ran a sub 15 minute race….I can promise you none of my friends or I were even close to that time BUT we still had an absolute blast. Multiple local vendors ended up coming to the Trot to sell some homemade items so I also got some Christmas shopping done. All of my roommates ended up going into work in the afternoon so I spent a majority of the afternoon hanging out with my friends Brandon, Adam and Robbie. At night we headed to the Iron Donkey for a Thanksgiving feast. Unfortunately we did not have any turkey so local chicken had to take its place. For me (and most people) Thanksgiving is about enjoying time with the people around you and this one was no exception. I do wish that Gulu electricity had cooperated a bit more to allow me to Skype with my family however. Love you guys-sorry it didn't work out.
On Friday the Gulu electricity continued to mess up my plans, so my day of anticipated working was cut short since my computer only lasted about 30 minutes. At night (when power finally came back), 2 of my roommates and I got into the holiday spirit by watching Elf and creating a makeshift fireplace to hang our stockings.
On Saturday 20 of us headed out to a soccer field in the village to play flag football -our very own Turkey bowl. We ended up playing for over 3 hours and we were not ready to stop when we finally called time. The unfortunate side to this is that we all got completely fried by the sun and have nothing to show for our morning of athleticism but weird tan lines and cuts and bruises. On Saturday night we had over 25 people at our house for an epic Friendsgiving. We sacrificed our pet Turkey "Goose" and everyone brought over a dish that reminded him or her of thanksgiving at home. I have to say, given the rather limited food options here, people got pretty creative. Definitely one of my favorites nights thus far and I can't say it enough-I'm so thankful to be surrounded by such compassionate, passionate and supportive people.
Tomorrow I will be making the trek down to Mubendi to help run a workshop on RHD for the Village Health Team in Kasaymba. I'm praying that the trip will take less than 10 hours but I won't hold my breath. Hope you all have a great week!