Right at the start of our safari!!!!
On Saturday morning we set off bright and early to Kidepo National Park, which borders Kenya and Sudan. Let me tell you-one way to test a shaky stomach; cram as many people as you can in one car and then drive on dirt roads for 5 hours and see if you survive. Add to the mix that our driver had "Greatest Hits-Love edition 1&2" on repeat for the whole drive, and it'll really test you as a person. I know it's a classic but if I ever hear "I will always love you" by Whitney Houston again, it'll be too soon.
We got there around 10:30, which is much earlier than we had anticipated. Excited by the extra time we would have to drive around and look for animals, we headed straight into the park after a picnic lunch. Unfortunately 2 minutes into our drive it started to rain. And by rain I mean torrential downpour. Visibility was close to nothing so we decided to head to our accommodation and wait for it to lighten up a little. We stayed in bandas that were directly in the safari park. It was awesome because this area wasn't fenced in at all so wild animals were free to roam in and out of the area, including some zebras! We headed out for about 3 hours at dusk in hopes of seeing some lions but came back at dark after not seeing anything but zebras, buffalo, Jackson heart beast and gazelles.
By nightfall the rain had subsided and the campsite we were staying at built a bonfire for everyone. We all gathered round and ate the chicken and rice that they served for dinner (I'll let you know how it is once I stop chewing….) and enjoyed some of the wine that we had brought with us. Kidepo is absolutely beautiful but I do have to say that this may have been one of my favorite parts of the whole trip. We spent the whole evening laughing and discussing extremely insightful topics such as One Direction, the difference between drunk Americans and drunk Europeans, and if we could invite 3 celebrities to a dinner party who they would be (very serious stuff). I felt like I was at home with all of my girlfriends and its so comforting to know that I have found that here. Knowing we were getting up at 5:30 in the morning we called it a night around 11pm.
In the morning we had a quick breakfast and then headed to the safari vehicle that we had rented for the morning. We had been driving around in the car that Sarah had managed to rent from work but we decided that we should rent a real safari vehicle at least once so that we could get some great pictures. As we were waiting for our guide to show up….it started to pour again. He tried to tell us that we should wait an hour, but we insisted on leaving then and I am so happy that we did. For starters lions are usually only active really early in the morning and 2. We only had 24 hrs in the park and needed to get out on time. The gatekeeper was very lenient when we first arrived but once he found out that Stuy and I were Americans he decided to tell us that we would have a huge fee if we missed our departure time by any amount of time.
We hopped in the car and proceeded to get soaked. To be honest for the first hour or so we all thought we may have made a mistake. The rain continued and we could barely see anything. Then our luck changed and a cheetah ran directly in front of our vehicle!! Cheetahs are extremely hard to spot on safaris. Our guide said that he had only seen 1 other one this whole entire year! We continued on for about 2 more hours and accepted the fact that we probably wouldn't see any lions. THEN about 20 minutes before we were supposed to end we spotted 2!!! We could not have asked for better luck and they probably couldn't have been any closer (unless we wanted to die). It was such a cool experience to see lions in the wild and it definitely was one of the highlights of the trip!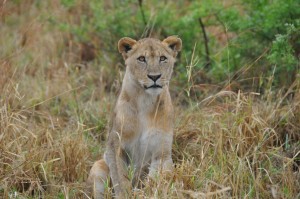 After that we headed back to our vehicle and made the 5-hour trek to Gulu. It was such an awesome weekend and I'm so happy that I got to spend it with such wonderful people! Hope everyone had a great weekend and has an even better week!