On Thursday morning the nurses and I piled into the car in Kampala and made the what ended up being 8 hour trek, back to Gulu. I swear every time I drive those roads they somehow get worse and worse. I'm hoping that if I return to Uganda in about 3 years then maybe, just maybe, they will be done. On Thursday night we had a "4th of July tailgate" to celebrate one last time before Sophie and Lucy's departure. Most of my friends left or are leaving in the next couple of days and knew how bummed I was that they wouldn't be here on the 4th of July. Most of them are from Europe so when Jess and I used the word "tailgate" for the first time, they just starred at us and decided for the 4th of July they wanted the "full American experience". When Jess and I showed up they were completely dressed in clothes that they viewed to be "American". It was a mix between lacrosse bro and straight up gangster. They continued the stereotype by screaming (very obnoxiously I might add)-OH MY GOD all night long. Still not sure how I feel about this….. Our "tailgate" ended having about 20 people; a great mix of ex-pats and Ugandans that I have befriended over the past couple of months.
We had grilled chicken, maize and roasted cassava (kind of like a potato) and then headed to quiz night one last time as a group. AND GUESS WHAT? We actually won! It could have been that we had a very large team but either way we were pretty excited about our victory. We celebrated with a free beer and then danced all night. It was probably one of my favorite nights in Gulu thus far but it definitely made me sad that most of them will be leaving me. I know I know -I can make new friends but these people will definitely be hard to top.
On Friday I spent the morning at the hospital doing some administrative tasks and then relaxed in the afternoon. Jess and I took advantage of the Game of Thrones DVDs that the couples whose house we are staying in left behind and watched a few episodes while enjoying some Indian food. We called it an early night since we were getting up early to head to Murchison Falls National Park for a safari!
Matt and Frankie arranged a safari trip for their last weekend here and we were more than happy to tag along. Aaron (England) and Rhoda (Ireland), two new volunteers at the hospital, joined our group as well. We all loaded up into the car and made the 3-hour drive to Murchison (and only got stuck and had to push the car once!!) It honestly still amazes me how close I am to a safari park and that I can simply spend my weekends with lions and elephants if I choose. We went on a late afternoon/early evening game drive and saw every animal imaginable, including a lion. The vehicle we took had a cage on the roof so you could sit on the top and just take in the breathtaking views.
On Sunday morning we woke up at 5am and headed back into the park for an early morning game drive because the big cats are more active at that time. Halfway through our drive we saw a leopard in a tree, which was such an amazing experience. It stared at us for about 2 minutes then jumped down from the tree so we could see it run away. Towards the end of our drive most of the group went back inside the vehicle but Rhoda and I stayed on top. Soon after, we ran into a huge herd of elephants that were a little less pleased to see us than we were to see them. They were about 10 feet away when one of the elephants started charging our vehicle and we sped away with it chasing after us for a couple seconds- probably the coolest, scariest, most exhilarating safari experience. I probably Go Pro (ed) every moment of our safari BUT this one. I was just too excited to even pick it up so you'll have to paint yourself a picture.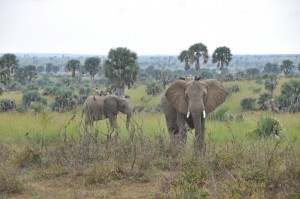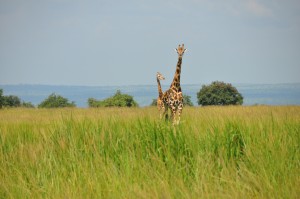 After our amazing weekend we headed back to Gulu and spent the evening with some pizza and not too much else. The nurses and I will be spending the day getting everything ready for our extremely full patient schedule and the launch of the registry this week!
PS-For those that have asked, I officially have a P.O box to receive mail! Let me know if you want the address.