There's something so primordial about seeing something tall, not knowing what's at the top and needing to see for yourself. Sure I could get on Google images but when the alternative is hiking in a low oxygen environment and getting so sunburned that your entire face peels off, who wouldn't choose the latter?! On June 27th I started my Kilimanjaro adventure and it was hands down my most memorable travel experience to date. So memorable in fact that I must have briefly forgotten my blog existed…let's go ahead and blame the altitude.
Now I wouldn't say that I was a trekking company's ideal hiker as I arrived at 10pm the night before the hike, sleep deprived, needing to rent basically every piece of equipment and coming off a 4-day fight with a parasite for which I definitely lost. I guess it's karma since I told Alyssa that getting sick in your first month is a rite of passage…..guess who has been illness free the entire time she's been here? Yea, not me.
I would like to take credit for choosing Trek2Kili, our amazing tour company and the breathtakingly beautiful Machame route for our journey, but I have to give Lisa all the credit. She did all of the research and I just tagged along. Azizi, the company owner said he's never had anyone who joined a trek so last minute….nothing like a little spontaneity right? It's not like it's hard or anything…..
Lisa and I set off on the first morning from the Machame gate with our guide Goodlove (no I'm not making that up) and our two group mates Jeff and Chen. We chose the 6-day route instead of the 7 or 8 day routes because we wanted to see how hard we could push ourselves. Totally kidding-it was cheaper.
I don't think I can accurately describe in words how amazing every aspect of my experience was but I will do my best (with the help of some pictures of course). I think my favorite part about hiking Kilimanjaro was that every day you ended up at a camp with a stunning view of the mountain on one side and the clouds beneath you on the other. As cliché as it may sound, it truly was about the entire journey, not just the summit day. Something about being outside all day, surrounded by nature, having no communication with the rest of the world, and being so exhausted that you fall asleep the second you hit the "pillow" (also known as a sweatshirt) is so wildly refreshing.
Day 1-Machame Gate to Machame Camp (9,400ft), 11km
On day one we stayed together and enjoyed a slow pace as we made our way through the rainforest. As we approached Machame Camp we got our first view of the peak as we rose above the clouds.
Day 2-Machame Camp to Shira Camp (12,500 ft). 5 km
While 5km may not seem like a lot, this day was straight up hill and we could all definitely "feel the burn" when we made it to the top. Jeff and I ended up hiking this day together as we hiked around the same pace-a trend that continued for the remainder of the trip. Shira Camp was hands down my favorite camp from the entire trek and when you see the pictures you can see why!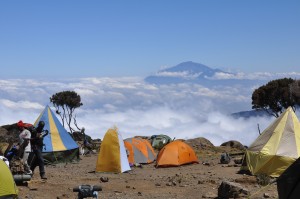 Day 3– Shira Camp to Baranco Camp (13,000 ft) 10km
On day 3 we hiked up to the "Lava Tower" at 15,000 feet and then descended back down to Baranco camp at 13,000ft. This day is when they see who is handling the altitude change. This camp was definitely one of the coldest as it was tucked into the mountain and didn't receive much sunlight.
Day 4– Baranco Camp to Barafu Camp (15,000 ft) 9km
On day 4 we hiked for about 7 hours, including scaling the infamous " Baranco wall". There was a big push for us to get to camp as quickly as we could (without overdoing it) because we were to start ascending to the summit at midnight!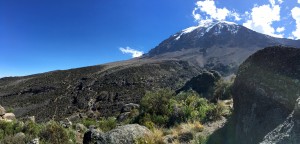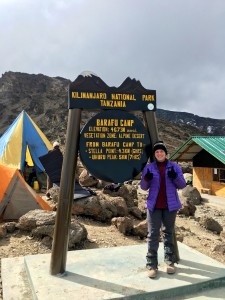 Day 5– Barafu Camp to Summit Peak to Mweka Camp (19, 345 ft), 17km
At 12:30am Jeff, Goodlove and I started our ascent to Uhuru peak, the highest point on Kilimanjaro. Unfortunately Lisa was extremely ill and was unable to summit. For those of you with medical background knowledge her resting heart rate was 140bpm and her sats were 75%…..definitely would have been a bad idea to continue on.
I've heard people say that summit day is more of a mental challenge than a physical one but I didn't believe it until I experienced it myself. When we started our trip up all I could think about was how cold I was. As we climbed over the first ridge, we looked up to see headlamps for as long as the eye could see-so high that I kept thinking "that will never be us". I began to confuse stars for headlamps as I stared at the seemingly impossible feat in front of me. I followed Goodlove as Jeff, beginning to feel the effects of the increasing altitude trailed a few steps behind me. I will never forget when I turned around and asked him if he needed a break and the only thing he could find the strength to say was "words". I took that as a yes. After 5 hours of hiking we had reached Stella's point, where we found fellow hikers laying on the ground connected to oxygen tanks. Our other guide, Hussein had started 2 hours earlier with Chen and brought the only oxygen cylinder with him. When I asked what would happen if Jeff and I needed oxygen he replied "make sure you don't." Comforting.
45 minutes after reaching Stella's point we arrived at Uhuru peak, the highest point on Mount Kilimanjaro, just in time for sunrise. There is no way for me to describe the overwhelming feeling of accomplishment that left me so fulfilled as I stepped up to take my photo with the infamous Uhuru peak sign. We were fortunate enough to summit on a sunny and clear day, which allowed us to stay at the top for 30 minutes before descending down the mountain. With glaciers on one side and the sun rising behind Mwahenzi, it was the most spectacular sight I have ever seen.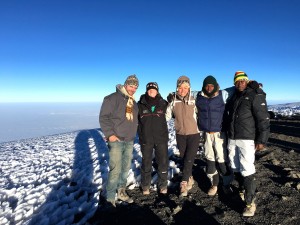 I was clearly naïve thinking that coming down from the mountain would be easier than going up. I basically ran down from the peak upon descent because I was so ready to give my legs (and lungs) a break. I remember getting back to camp and being so exhausted that I actually failed to open my tent and fell asleep outside of it. 30 minutes later I heard a big thud, looked up and saw Jeff had done the exact same thing, executed equally as graceless. We knew we had 1 hour to rest before they would be waking us up to continue 4 miles down the mountain to our next camp. When I woke up I remember thinking "there is no way I can do this". Everything hurt and all I could think about was sleep. The boots I had rented had torn my feet up so bad that I had blisters that covered both of my heels. If anyone has read or seen "Wild" I felt like Cheryl when she gets so frustrated with her boots that she chucks them off the mountain, although I did exhibit a little more self-control. Continuing the Kilimanjaro "mental game" we packed up our stuff and trekked onward. With every step down I could feel my lungs cheer as they filled with fresh, oxygen saturated air-the polar opposite of my aching feet as they reminded me of the harsh, yet rewarding expedition they had taken me on, with each throbbing step.
When we arrived at Mweka camp I gave Lisa the biggest hug, happy that she was safe and feeling much better after coming down a few thousand feet. We shared stories, laughed over our final tent dinner and fell asleep around 8pm, excited to wake up the next morning and finish the remaining portion of our journey. I think the conversation topics for the 4-hour trip down the mountain that morning alternated between how great a shower would feel and how good a cold beer was going to taste. A few short hours later we experienced both and I must say it was a magical encounter. 
I still haven't grasped my Kilimanjaro experience in its entirety and while I have shared parts of it here, this is just a small glimpse of my time on the mountain. I have never felt more alive than I did while hiking Kilimanjaro and I would do it all over again in a heartbeat (if my wallet allowed). I consider myself the luckiest girl in the world to have had this experience and to have been able to share it with so many amazing friends, new and old. For anyone that loves the outdoors and a good physical challenge then I recommend this without hesitation!
As they say on the mountain:
Wageni, mwakaribishwa, Kilimanjaro, hakuna matata!