Sorry for the delay! This week has been absolutely amazing thus far and I can't wait to tell you all about it. On Sunday morning I met up with the team from Imaging the World in Kampala and after a few introductions we set off for Nawanyago. Nawanyago is in the Eastern part of Uganda, right outside a big town called Jinja, and was the pilot site for the ultrasound program that ITW has successfully implemented all over the country. Our main objective for the trip was to figure out how we are going to smoothly integrate RHD screening into the existing ultrasound program.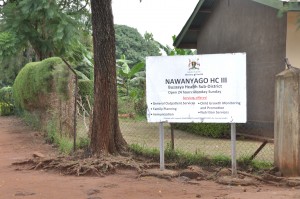 Upon arrival we were greeted by one of the friendliest Ugandans I have met. Sister Angela is a midwife at Nawanyago Health Center III and is the main sonographer for the ITW program there. She gave us a tour of the facilities and then we all sat down for lunch and a lecture on RHD. Besides gathering all of the information we need to successfully launch this program, sonographers from different ITW sites joined us in Nawayanyago to receive training from cardiologists based at Children's National and UVM.
On Monday I helped educate the local Village Health Team about Rheumatic Heart Disease. The VHT system here consists of a director and 2 volunteers for each of the 16 communities that the Nawanyago Health Center serves. You could really see how much the VHTs care about their communities and how eager they were to bring back this information. It is our goal that they will not only spread the word about the cause of RHD but also inform mothers about the echo screening that will soon be available at their health center.
After our afternoon training we were taken into the village by the director of the VHTs to visit some of the patients that ITW has helped in the past. For those of you that are unaware of the Imaging the World model, they have implemented this OB ultrasound program to help discover at risk pregnancies early on so that complications can hopefully be avoided during labor. This way mothers can be referred to a hospital before it is too late. All of the studies that are performed in Uganda are uploaded to a server and are over read by experts in the States. What they have been able to accomplish is truly remarkable and I could not be more excited that I get to work with this team in the upcoming months.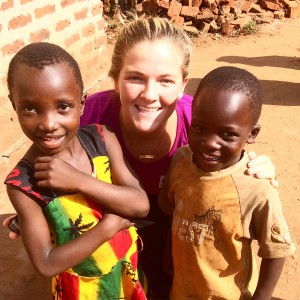 On Tuesday morning I got to experience my first Antenatal Care Clinic day, which was extremely important because it allowed me to get information about a typical day at Nawanyago. Since the introduction of Ultrasound, ANC visits have climbed from 130 a month to over 250 per month! These clinics are super important for mother and baby because mothers receive education about their pregnancy, prenatal supplements and are tested for HIV monthly to decrease the risk of mother to baby transmission.
In addition to the ANC clinic I was able to spend the afternoon with Sister Angela learning about OB ultrasound and was able to watch her perform a couple! At the end of the day the whole team headed to Jinja where we stayed at a wonderful hotel located on the Nile and enjoyed some great pizza.
On Wednesday we returned to Nawanyago for one last day of echocardiography training before heading back to Kampala. About an hour before we left a woman went into labor so I had the bright idea that I would watch-Stupid, stupid mistake. Lets just say that when I walked out of the room, the doctors said I have never looked whiter. I think I can safely say that OB is off the table for this girl.
On Thursday morning I headed to the UHI with Dr. Sable and Dr. Donofrio. There were about 50 patients lined up to see them when we arrived, including some of the children that received surgery in March when I was here with the team from Childrens. A lot of these children have congenital heart defects and Dr. Sable is simply incredible when it comes to finding children sponsors for surgery.
I spent most of Thursday preparing the IRB (for our upcoming project with ITW) for submission. All of the content was already there but this is Uganda which means things don't usually go according to plan. After some formatting issues, a broken printer, 3 power outages, 5 hours and a close call with a bottle of water, we were able to successfully drop the proposal off to Mengo Hospital. I returned to our hotel around 6:30 to meet up with Dr. Sable and Dr. Donofrio before we headed to Dr. Lwabi's house for dinner. Dr. Lwabi is one of the pediatric cardiologists at UHI and he is simply a great person. His house was absolutely beautiful and his family was so welcoming. After an excellent dinner and some Ugandan Waragi, we decided to call it a night and head back to our hotel.
I will be spending most of the day organizing the information that we were able to gather on this trip in addition to a few medical school applications that have been neglected this past week. Happy Friday everyone!