This is a day late but the power was out for most of yesterday, which makes communicating hard but more importantly, makes our work at the clinic even more challenging. The resources here are few and far between but luckily we have a small generator in which we can plug the echo machine into. Wednesday was definitely the day when I realized how challenging this experience is going to be both emotionally and physically. It is hard to describe the poverty that I have witnessed but I can assure you that you have a lot to be thankful for.
On Wednesday mornings there is a penicillin clinic run at the hospital for those children already diagnosed with RHD. I watched as around 85 children stood in line to receive a number and stand in the hot sun for 2-3 hours. Most of these children were between the ages of 6-12 and had walked themselves to the hospital because their parents had to work. Not once did I see a child complain. They simply got their number and waited their turn. It is such a difference from what we are used to in the US and how if an appointment is running 10 minutes late it is our "right" to complain.
As for the study we enrolled 4 more families today, which is awesome progress! In addition, some of the families we screened had members who were positive for RHD and had no idea that they were living with this condition. Thankfully this means that we can now put them on penicillin injections so the damage to their heart doesn't worsen.
I have also expanded my Acholi vocabulary by two words!! I can now say come ("bin") and thank you ("ofoyo"). The children still laugh at me when I say thank you but hey I'm trying. Still working on "hello" though. Not exactly how to spell it but trust me, it is by no means easy to pronounce.
These past three days have been very long and hot but it is so rewarding to see everything coming together. One of the greatest concerns was being able to finish in the 2 months that we have allotted but so far things seem to be right on track. More to come tomorrow!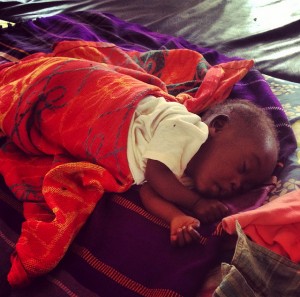 found this little guy in the nutrition ward this morning