Hey Everyone!
It's official-Paul wants to move to Uganda!! It's hard to say but I'm pretty sure it was the 40+hours of power outages and the Gulu food poisoning that really had him convinced. Seriously though, we had an absolute blast and I am so happy that he was able to come visit (you're next dad)! It is so hard to describe to people what life is like here, even with social media and FaceTime, and I'm so glad he was able to get a glimpse of what my day to day looks like and put a few names to faces. And in case you're wondering, I am already aware of how lucky I am to have a brother like Paul. While he may make fun of me on a pretty consistent basis and remind me how much smarter he is than me, not everyone can say that their siblings check in with them every week to see what's new and how you're doing, let alone fly 8,000 miles across the world to spend a week with you.
While I don't think pictures can actually do our trip justice, I'm going to try.
Stop 1: Bwindi Impenetrable Forest National Park, Southwest Uganda
Activity: Gorilla Trekking. Hands down one of the coolest things I've ever done. If you ever find yourself in Uganda or Rwanda it is a must see. These animals are absolutely stunning and getting 2 feet away from them is great for any adventure seeker
Stop 2: Lake Bunyoni, Kabale, Southwest Uganda
Activity: Relaxation, boat tour, beers and scrabble (I lost every time….)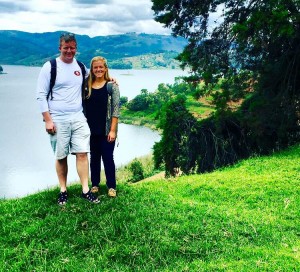 Stop 3: Murchison Falls National Park, Central Uganda
Activity: Safari, boat ride, hike up Murchison falls and some really good food
Stop 4: Gulu, Northern Uganda
Activity: Friends, food poisoning, and power outages
Paul unfortunately was sick for the majority of his time in Gulu but he was still able to meet most of my friends and Twalib and the nurses, which was the main purpose of stopping here. He even came to the clinic on Monday and got to see what my day to day looks like. He commented on how chaotic the clinic flow was and how he thinks it would drive him nuts…I thought it was a very organized and fluid day so I think I've maybe just been here too long…Paul also got to demonstrate his medical school knowledge when Twalib lead 12 students  to him and said "here, teach them. how about you talk about PDA's and ECG's." And that's exactly what he did and between you and me, I think he really enjoyed it. I know Paul is smart and was reminded each year growing up when he took home every academic award -like c'mon who enters the physics olympics at age 14….and wins….Despite all of this I've never gotten to see him in any type of medical environment before. It was so cool to see how much he clearly loves medicine and how happy he is pursuing this career. Hopefully I'll get to experience that too, but that's a conversation for another time.
I'm now back on a normal schedule and have been trying to get my feet back on the ground after being away (the constant power outages are making that super fun :)). This week I'm organizing all of the registry data that was completed while I was away, preparing for support group 3 and finishing up some miscellaneous things that I should have gotten to a while ago. Super happy to be back and excited to be staying in the same place for the next 2 weeks. Hope everyone is having a great week!